Activities
Activities at Baskerville Hall Hotel
Welcome to the activity department of Baskerville Hall Hotel.
For your convenience many of our activities can be run from the grounds of Baskerville Hall, therefore minimising travel time. We have the advantage of a wide range of activity providers, we are more likely to have availability of activities what ever the time of year. We are also fortunate enough to have one of the best activity playgrounds on our door step, the Black Mountain and Brecon Beacon National park. The Baskerville Hall offers 130 acres of our own open fields and woodlands. The National Park, with rivers, mountains, waterfalls and magnificent scenery makes the area some of the most impressive countryside in the UK. Take advantage of the stunning surroundings and a Hotel that's brimming with history and character.
Book one or a selection of activities from the following list:
Archery, Caving, Quad Trekking, Mountain Biking, Go Karting, Paintballing, Clay Pigeon Shooting, Gorge Walking, Abseiling & Climbing, Canadian Canoeing, Golf, Pony Trekking Half Day, Team Challenge and Raft Building.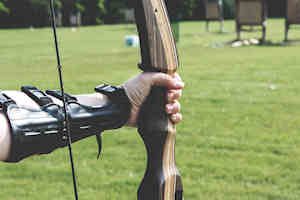 Archery – half day on site.
Call Interactivities 01497 847 602
An ideal activity or all ages and abilities.
Learn the skill of archery under the close supervision of qualified instructors.
Caving – off site.
Caving as an outdoor activity in the Brecon Beacons and South Wales is some of the finest in the UK. Experienced and qualified leaders will be there as you witness amazing underground passages and caverns, waiting for you to explore them since the dawn of time. Suits all levels of fitness and ability, you are kited out in helmet, lamp and protective clothing. This is a good environment for teamwork with a chance to take a leading role. www.interactivities-uk.com tel number 01497847602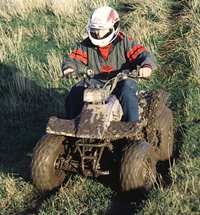 Quad Trekking – half day
Oaker Wood leisure 01568780111
Experience the thrill of quad biking through acres of challenging fields and woodland. The trek will incorporate varying levels of terrain, depending on your ability.
Expert tuition will ensure guests get the most from their day.
Mountain Biking Half Day
Mountain biking is one of the most enjoyable ways to see the countryside. The Black Mountain and Brecon Beacon National Park has some of the best mountain biking in the country, offering something for everyone from flat scenic routes to lung busting climbs and exhilarating descents.
Guides are available for groups at an extra charge. All equipment provided.
www.drovercycles.co.uk 01497 822419
Suggested group size for motor activities is 10 persons.
Go Karting ½ Day

Hereford Raceway 01544 318334
Race in the shoes of many formula one drivers. Go karting is a fly by the seat of your pants racing event. A perfect activity for boy racers and budding Schumachers alike.
Paintballing ½ Day – off site
The usual Paintballing mayhem with various games and scenario's. Situated in acres of beautiful woodland, with 200 paintballs free per person.
Oaker Wood Leisure 01568 780111
Oaker Wood Leisure 01568780111
Shoot real guns with real ammo at some clay pigeons, what a blast. Our one to one tuition with experienced instructors will help you to improve, what ever level you're at. 30 birds per person.
Gorge Walking Full Day

Interactivities 01497 847 602
Once fully kitted up, your team will follow your instructor up a river. Tackling obstacles such as boulders, white water, tunnels and plunge pools. Altogether an exhilarating and unique day.
Abseiling & Climbing Full Day

Interactivities 01497 847 602
This is the original adrenaline sport. Climbing takes strength, skill and determination, abseiling just takes shear guts, combine the two and you're in for an awesome day's activities.
Canadian Canoeing Half Day

'Want to Canoe' 01497 820604
Imagine this……a lazy day on the river Wye. Paddling down river, under your own steam in one of the most scenic and picturesque locations in the U.K. The gently flowing water, the peaceful rocking of the boat and the opportunity to observe many different species of wild life, from kingfishers to otters. All equipment provided. Return transport included.
Tregoyd Mountain Riders 01497847351
Enjoy hourly or half-day rides in the scenic surroundings of the Black Mountains. For Beginners to experienced riders of all ages. The Black Mountains in the Brecon Beacons, is well established as one of the most popular riding areas in Wales. The varied and rugged scenery, open commons and sheltered forest bridle paths are familiar to riders from all over Great Britain and Europe. Like much of Central Wales, they are ideal riding country. Old drovers tracks and paths lead along the steep sided valleys, whilst commons and flat topped ridges provide for those who enjoy the occasional canter or gallop.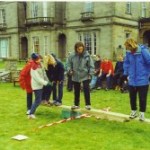 Team building activities
Interactivities 01497 847 602
Team Challenge – Half Day – 8 people minimum This activity relies on you and your team working together using communication, cooperation and team work. This is a fun event that does not need to be taken too seriously; it's great against other teams or as an inter company challenge.
The session includes problem solving and navigation.
The afternoon can be run with raft building, to make a full problem solving day.
Raft Building ½ day

Interactivities 01497 847 602
This activity is great for hen and stag groups or for likeminded individuals who want a fun activity with friends.
BOOKING CONDITIONS:

All activities are provided by outside activity providers who specialise in their particular activity.

A deposit will be required on booking with the final balance being paid on the day of activity to the activity provider. Some activities will require FULL payment on booking.

All activities and prices may change subject to season and availability.