Restaurant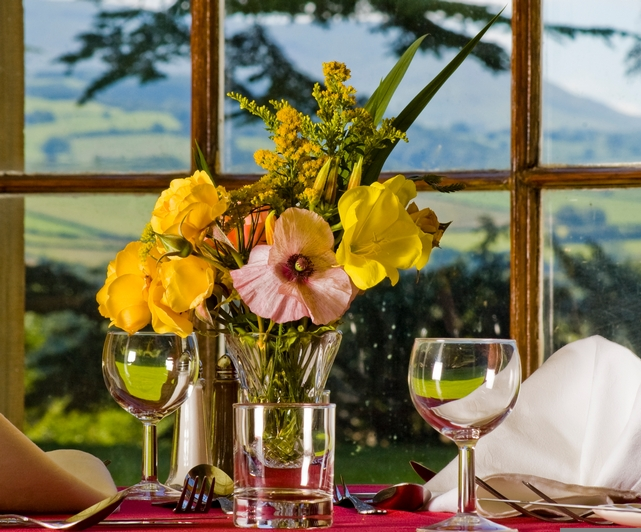 The restaurant provides good fresh home cooked food that will set you up for whatever the night or day might bring. In one of our oak paneled dining rooms we can provide you with a selection of dishes using local produce where ever possible. We have many superb local produces of Welsh Black Beef, Hereford Beef, Welsh Lamb and a host of local vegetable producers.
We can also cater for your groups needs or budget if ordered in advance.
Private dining rooms are available at a charge of just £50
Below is our present selection of group set menus for you to browse.
Group Set Menu
Option 1, two courses @ £12:50 per person
Home made chicken curry served with rice, chips & poppadoms
Sweet of the day
Option 2 @ £16 per person
Home made vegetable soup
Chicken Breast with a leek and mushroom sauce
served with vegetables and new potatoes.
Chocolate fudge cake
Option 3 @ £18 per person
Tomato and mozzarella Salad
Roast Welsh Beef with a red wine sauce
served with Yorkshire pudding, vegetables, roast and new potatoes.
Apple Pie & Ice cream
Option 4 @ £18.50 per person
Chicken liver pate with apricot chutney and a continental salad
Roast leg of Welsh lamb with a mint and rosemary jus
served with vegetables, roast and new potatoes.
Sticky toffee pudding & custard
This menu is designed for the whole group to have the same option except for vegetarians
Please choose from the options above and order in advance.
—————————————————-
Group set menu Vegetarian option
Option 1, two courses @ £12:50 per person
Option 2 @ £15 per person
Option 3 @ £17 per person
Option 4 @ £18 per person
This menu is designed for the whole group to have the same option except for vegetarians
Please choose from the options above and order in advance
—————————————————-
Baskerville BBQ Menu £12 per person
Available from May to September
Includes:
Sausage
Burger
Chicken drumstick
Pasta salad
Mixed salad
Coleslaw
Potato salad
Bread rolls
Veggie burger (if required)
Veggie sausage ( if required)
E&OE