Corporate Breaks
Conference Wales @ The Baskerville Hall Hotel
Conferencing at Baskerville Hall
The one stop activity and corporate conference provider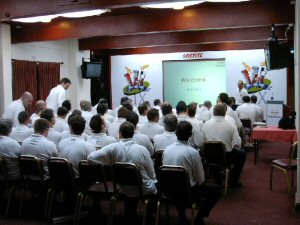 Whether it is a corporate day, conference or activity break, why not let Baskerville Hall organise your residential break for you, taking the drudgery out of what should be a pleasurable experience. Let us help with all your requirements so you can concentrate on the goals you wish to achieve.We will put together a package which can include your accommodation in an historic country hotel, activities chosen from our great selection of various pursuits, your meal requirements ranging from picnic lunches to five course evening meals.
Whether it's for a simple conference, corporate launch, staff training or a team building course we can compile a package to suit your company's needs. We aim to ensure that you and your delegates achieve your objectives and have an enjoyable and comfortable visit.
Catering is designed to meet your needs and budget, we will endeavour to fulfil your wishes, be it a snack, a buffet, packed lunch or multi-course meal.
The conference facilities are something you will not find anywhere else, set in this splendid building built in 1839 by Thomas Baskerville. The family and setting is the inspiration for Conan Doyle's novel 'Hound of the Baskerville'.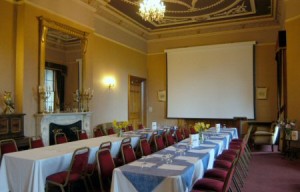 A selection of five conference rooms, which hold between 10 – 250 delegates, some reflecting the splendour in which the Baskerville family once lived. Ornate cornices with amazing ceiling decoration and oak panelling can be the backdrop to your conference, adding a relaxing atmosphere to possibly an otherwise hectic agenda.
To assist with your travel and for a direct link to us on Google Maps, this also details the location of our Helicopter Landing area please click here. Please book all requirements in advance.
Conference charges
24 HR Delegate Package From £85.00 per person
Standard Twin Accommodation
Full English breakfast
Morning Coffee with Biscuits
Buffet lunch
Afternoon Tea with Cakes
Three Course Evening Meal
Conference Room Hire
Daily Delegate Package From £30.00 per person
Morning Coffee with Biscuits
Buffet Lunch
Afternoon Tea with Cakes
Conference Room Hire
Extras: Pads, pens, flip charts, OHP, television, video, DVD and digital projector are all available at an extra hire charge.
Baskerville Hall is set in 130 acres of our own Welsh countryside overlooking the Brecon Beacons National Park and the Black Mountains. The grounds consist of 50 acres of lawns and fields, which can be used for activities ranging from problem solving games to field events with 80 acres of woodland for orienteering, paintball and 4×4 off road driving. We are situated near the river Wye, which may be used for raft building and canoeing. Check out our activity page and put together a package to suit your company's needs. After a long taxing day, what better than a relaxing swim in the heated indoor pool or a laze in the sauna, followed by refreshments in the resident's bar. All residents have use of the swimming pool and sauna.
Please book all requirements in advance.
01497 820 033
or email us at  info@baskervillehall.co.uk